Even though the sailing season in Northern California scales back in the late fall to winter months, we locals still hit the water with vigor when an opportunity comes up, rain or shine. We are aboard an America's Cup boat on San Francisco Bay. Personally, I love slogging around on a sailing vessel in the rain, but my camera does not. Peter Ziegler at ACsailingSF popped me an email asking if I'd like to join for a social sail. I said yes! Lucky for me, the invite fell on the best weather day of this past weekend, Sunday.
Peter, crew member and key man in charge of keeping USA 76 in top mechanical shape, loves his job and loves to share the experience of being on the Bay. He, along with fellow ACsailingSF mates Jon Buser and Ray Duran plus several guests, hoisted sails for a two-hour America's Cup voyage aboard USA 76. The journey started at San Francisco Fisherman's Wharf.
Golden Gate Bridge and Americas Cup boat — travel and tourism best pick.
America's Cup Boat Charters Sails on San Francisco Bay All Year
Featured here are a few images from the sail with best intentions to respect the privacy of guests. Peter, Jon and Ray–hope you did not mind being fair game. I have several portrait shots to share with you each privately. While onboard I nabbed a motion clips using both cell phone and a Nikon D500. Those elements, along with editorial, will be combined and shared soon.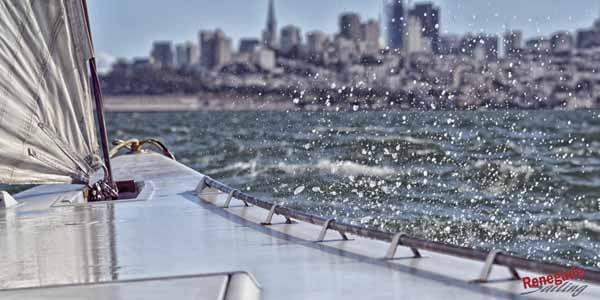 About ACSailingSF
Fast forward to 2011 and Brad and his wife Karen launch America's Cup boat adventure sailing ACsailingSF. The objective to share with others what it feels like to be onboard a winning yacht with measure 84 feet in length. The sails scoop the air courtesy surface area 2,800 square feet. The ACsailingSF line-up includes the chance to compete in local regatta events, head out for an adventure sail and also work aside peers through corporate team development programming. http://www.acsailingsf.com/
Guests gain the ultimate sailing experience. Consistent winds, mild year-round temperatures, and spectacular scenery make San Francisco Bay one of the most iconic places in the world to sail. Many of the world's greatest sailors and several America's Cup Teams have found their beginnings in the Bay. USA 76 was San Francisco's 2003 entry for the 31st America's Cup. She was patriotically named and Brad Webb sailed with ORACLE as bowman.
In 2014, the ACsailingSF Team introduced TOMCAT, a ProSail40 to their fleet. This boat strengthened our America's Cup boat connection in San Francisco and added another great way to experience the Bay. TOMCAT is named to honor Tom Blackaller's legacy and his revolutionary ideas for professional sailing. With this addition, ACsailingSF now operates USA 76 & TOMCAT for public and private sailing charters and provides the most thrilling sailing experience in the world.
Tickets for public charters are available four days a week, year round. Visit the company's Ticketed Trips page to find more information about trips and purchase tickets. Available for individuals and private parties.