Antigua Classic Yacht Regatta
A bucket list event for caribbean racers, this friendly competition is spread over four days and brings together dozens of vintage ketch, sloop, schooner, yawl, tall ship and spirit of tradition entrants.
As appearing in Nautique magazine, April 2018
In the 1960s, chartering a classic yacht out of English Harbor, Antigua, was very much in vogue. With Caribbean yachting a definite seasonal tourist pursuit, once charter bookings slowed, the season's end was marked by captains and crews challenging each other to a race to Guadeloupe, a distance of 42 nautical miles. From this informal start in 1967 came Antigua Sailing Week. In the beginning all competing vessels were classic yachts, but over the next 24 years these older vessels became outnumbered and overtaken by newer and faster racing yachts.
By 1987 the handful of classic entrants were assigned to Cruising Class 3—hardly ideal for hard-to-maneuver full keel vessels. Determined to improve their lot, Captains Uli Pruesse and Kenny Coombs gathered together older boat skippers onboard the schooner Aschanti of Saba. The result: Antigua Classic Yacht Regatta.
Celebrating its 31st year, Antigua Classic Yacht Regatta is hosted by a dedicated team of volunteers and underwritten by various sponsors. A bucket list event for Caribbean racers, this friendly competition is spread over four days and brings together dozens of vintage ketch, sloop, schooner, yawl, tall ship and Spirit of Tradition entrants. Images showcased here were taken at the 2017 event, including this cover image for the 2018 programme.
Antigua Classics Yacht Regatta Since 1960
The oldest boat to compete in Antigua Classics Yacht Regatta was the 28-foot Camper Nicholson Dunlin, built in 1890. She was a regular participant until she was lost in the Atlantic Ocean in 2004 due to rudder problems. Her owner, Phil Kerin, was rescued. In her honor, each year a trophy is awarded to the oldest classic boat; in 2017 it went to Anne Marie

built in 1911.

Kenny Coombs, founder of the regatta, earned his living building boats in Holland while in his 20s, 30s and 40s. He spent one winter stuck in Ijslemeeer ice with his wife Jane while onboard their Norwegian fishing boat.
The 57m three-masted schooner Fleurtje

(launched in 1960) took part in many regattas in early years.

Dutch vessels Chronos

(157' Klaus Roder staysail ketch, 2012) and

Rhea

(158′ Klaus Roder, Carpe Diem, 2012) will compete in 2018.

Two-master gaff schooner Eleonora

, built at the Van der Graaf Boatyard in the Netherlands, participated in 2003 and 2008.

Andre Hoek Spirit of Tradition boats have graced Antigua Classic Yacht Regattas: Skylge

in 2006 (renamed

This is Us

);

Athos, Drumfire

and

Firefly

in 2011 and 2012. In 2018, the 127' sloop

Atalante

will be on the course.

Participation of Hoek-design vessels was instrumental in the formation of the Spirit of Tradition class created in Antigua.
Notes From the Regatta Website:
Back in the 60s, classic yachts in English Harbour had begun chartering and the captains and crews challenged each other to a race down to Guadeloupe at the end of the charter season. From this informal race, Antigua Sailing Week was formed in 1967, and in those days all of the yachts were classic. However, over the next 24 years, the classic yachts were slowly outnumbered by the faster, sleeker modern racing yachts. A small number of classics still racing in 1987 found themselves grouped with cruising Class 3 which was less than ideal for these hard to manoeuvre full-keeled vessels. And so it came about that Captains Uli Pruesse and Kenny Coombs hosted a meeting with other classic skippers onboard the magnificent schooner Aschanti of Saba and, several rums later, the Antigua Classic Yacht Regatta was born.
The Regatta has evolved into what it is today with the help of a faithful and long-standing Committee, and some friends who have brought notoriety to the event. In 1991, Elizabeth Meyer brought her newly refitted Endeavour and Baron Edmond Rothschild brought his 6-metre Spirit of St Kitts. CSR became the first sponsor and inaugurated the Concours d'Elégance, which then gained worldwide publicity thanks to subsequent sponsor Boat International Magazine.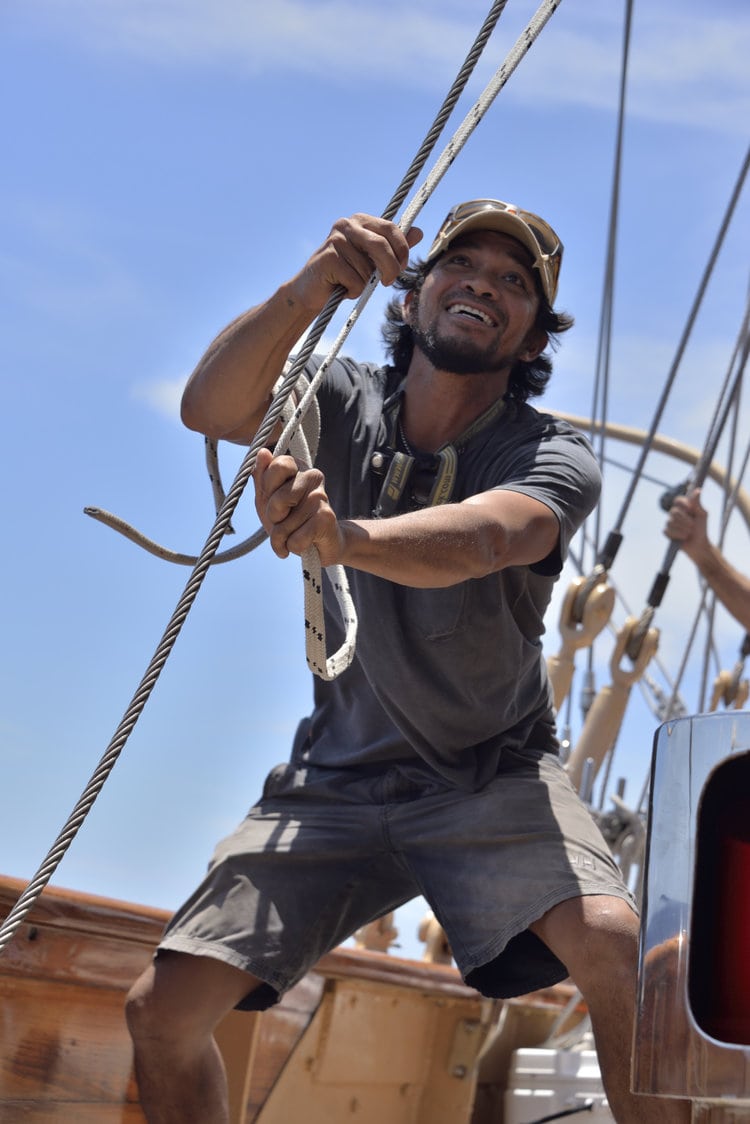 Wilson works the lines at Antigua Classics Yacht Regatta. This was the first regatta that Schooner Eros participated in.