Appearing in September Points East
What is carbon fiber? In 1879, electricity innovator Thomas Edison baked cotton strands and bamboo splinters at high temperatures in order to carbonize them into a filament that could resist extreme temperatures.
Well, you could say he was, unwittingly, circling the concept of what we know today as carbon fiber. But back in the late 19th century, Edison sought to create an "all-carbon-fiber" filament of cotton and bamboo capable of burning for extended periods of time inside one of his inventions. His efforts became U.S. Letters Patent No. 223,898, the Edison incandescent electric lamp, soon to be known as the light bulb.
Fast-forward to 1958 and high-performance fibers are being created at the Union Carbide Parma Technical Center near Cleveland, Ohio. Despite the inefficient results, which yielded low strength and stiffness of properties (fibers contained around 20 percent carbon), work carried forth. Come 1963 and it is the British—namely W. Watt, L. N. Phillips and W. Johnson at the Royal Aircraft Establishment—who are first to truly realize the strength potential.
"The process was patented by the UK Ministry of Defence (sic), then licensed by the British National Research Development Corporation to three companies: Rolls-Royce, who were already making carbon fiber, plus Morganite and Courtaulds," Wikipedia states.
Rolls-Royce introduced the material to the American market in the late 1960s via the RB-211 high-bypass turbofan engine with carbon fiber compressor blades. As for early use of Edison's carbon fiber in the manufacture of boats, Goetz Composites, of Bristol, R.I., is credited with pioneering a process that enabled crafting of the first full-carbon-fiber vessel in 1984—Jubilation, a 54-foot German Frers design. Goetz had begun working with carbon fiber in 1977.
What are the Benefits of Edison's Carbon Fiber?
Stronger than steel and lighter than aluminum, carbon fiber is prized by manufacturers of cars, planes, bicycles, space craft, sporting goods and more. In maritime applications, carbon fiber is used in masts (constructed using prepreg, filament winding or pultrusion techniques), hulls and ballast fins, spars and sails. Material's attributes: very light in weight, high-modulus (high resistance to stretch), strength, resistance to ultra-violet rays and a modern, high-tech look.
Gives greater strength at a lighter weight. It yields increased potential for speed, plus greater stability for a vessel.
A sailboat with a sealed carbon fiber mast is more capable of righting itself. Carbon fiber resists corrosion, is moisture and heat-stable, and has super energy absorption. Greater strength during impact also contributes to improved safety.
Extensive Carbon Fiber Experience
Todd French and Peter Webb of French & Webb, Inc., in Belfast, Maine, have extensive experience working with carbon fiber in the design and manufacture of recreational vessels. Over the years, the company has earned a reputation for pleasing aesthetics and top workmanship with their award-winning productions. "Carbon fiber is a great material for new composite construction projects. It speaks to innovation, offering a cutting-edge design element, plus a lighter and stronger performance product," says French, whose team has been watching its evolution and acceptance by boat owners.
"Now, with price points coming down, there is growing acceptance by a more mass audience," he adds. "Carbon fiber is an additional tool for us." French acknowledged that today, carbon fiber is a desirable component. "It speaks to innovation and has its earned place—but it is not an application we never used in the restoration of classic [wooden] boats."
Also known as graphite fiber, carbon fiber is produced from organic polymers. The polymers consist of long strands of molecules that are bound together in microscopic crystals aligned linearly and in parallel to the long axis of the fiber. A single carbon-fiber strand has a diameter of between 0.005 and 0.010mm—finer than a strand of human hair. Approximately 90 percent of carbon fiber is made using the polyacrylonitrile (PAN) process.
Working on your own carbon fiber project?
Crafting with a solid piece of carbon fiber solid requires the use of a dust mask to minimize contact, especially when cutting or sanding. the fiber dust is not toxic, but it has potential to be a mild irritant to the skin, eyes and lungs, much like fiberglass. plus, its edges can be very sharp, so gloves are expedient. basic information about working with carbon fiber can be found on numerous websites.
AKA, Graphite Fiber
Innovative Composite Engineering (ICE), a Columbia River Gorge firm based in Washington State, produces carbon fiber sailing and marine products, including mast and boom assemblies, spinnaker poles, tiller extensions and sail-track tubes. ICE uses the PAN method, heating strands to a very high temperature without allowing them to contact oxygen, ICE says, to prevent the fibers from burning. It is during this phase that carbonization takes place. According to the "Unmanned Engineeria" blog (unmannedengineeriablog.wordpress.com), typical steps in a PAN process are:
Spinning: Polyacrylonitrile is mixed with other ingredients and spun into fibers, which are then washed and stretched
Stabilizing: Chemicals are altered to stabilize bonding
Carbonizing: Stabilized fibers are heated to a very high temperature for several minutes to form tightly bonded carbon crystals
Treating the surface: Fiber surfaces are oxidized to enhance bonding properties
Sizing: Fibers are coated to protect from damage during winding or weaving
Winding: Fibers are wound onto bobbins, which are then loaded onto spinning machines
Twisting: thousands of these thin strands are twisted tightly together to form yarns of a specific size
Carbon fiber tow (yarn) is the thread that is woven into carbon fiber fabric. A 3K tow has 3,000 filaments; a 12k has 12,000. There is even 24k tow. Yarns may be combined with other threads or filaments to make a specific blend, or they can stay in a pure form. Carbon fiber fabric is woven by machine into a flexible cloth which can be shaped and molded in various ways.
Carbon fiber cloth cuts may be placed over a mold and pushed into position, then coated in a resin or plastic to form objects and/or take on shapes. Carbon fiber is also developed for use as a composite. To form a composite, heat, pressure or a vacuum binds fibers together, with the help of a plastic polymer. Combined with resins and/or epoxies, composites are used to make tubing, flooring, propeller blades, bike frames, surfboards and racing yachts.
America's Cup Sails In with Carbon Fiber
We cannot forget about carbon fiber sails, which came on the scene during the 1992 America's Cup in San Diego. Today, many grand-prix fleets embrace this fiber. And, as durability increases and maintenance and prices drop, offshore racers and cruisers are bringing more square yards onboard. Luxury and high-end cruising vessels have been sporting the cloth for some time.
Ben Sperry, president of Sperry Sails in Marion and Martha's Vineyard, Mass., says, "Sail cloth with carbon fiber added is more durable than ever. Carbon fiber sailcloth is available in film-on-film for the lightest racing sails, or with a woven polyester taffeta or "lite skin" cover for added chafe protection and UV resistance. Our clientele seeks versatile sails that are suitable for both cruising the New England coastline and participation in offshore races. As a result, the GraphX line of [carbon] laminates from Dimension Polyant is one of our most used."
In early days, carbon fiber sailcloth was more fragile and did require special care when handling, according to Sperry. It is acknowledged that carbon fiber sails have low flex and give. You know the crackly, snapping sound heard as a boat turns through the eye of the wind and the headsail gets pulled into position on the new side?
Well, if you take a raw carbon fiber tow (yarn) and fold or bend it, it will snap after only one or two firm folds. Magnify that bend by the thousands of threads in cloth and you'll comprehend the acoustics. "Carbon fiber is now capable of withstanding repeated flex and the torture of heavy sailing," he affirms. "You still need to be sure that sails are not allowed to flutter long term, but this is true of all types of sails."
GPL Double Taffeta Sail from Sperry Sails as Made for a 50' Performance Cat
Today's fabric vendors offer blends, weaves and fiber advances that have increased durability and performance, plus bring a great aesthetic. While on average, the cost to purchase a sail comprised of carbon fiber is higher than that of a sail made of Dacron, nylon or liquid-crystal-polymer (LCP) Vectran, the benefits may outweigh things in the long run. A final note on sail care, "Be sure that adequate patching is added to protect at impact in regions of contact with spreaders and stanchions."
No matter the fiber content, proper care and maintenance of sails will prolong life. Sperry advises rinsing off sails that have come in contact with salt water. Also, attention should be paid to the metal bits on sails, and those that come in contact with them, in order to avoid corrosion and staining. Whether post-sail or post-season, "The best method for storing a sail is to ensure that it is thoroughly dry and nicely folded," Sperry says, "Avoid hard creases when flaking or folding. An annual professional cleaning is good too."
High-tech on classics?
Traditionalists may gasp, but high-tech filaments are finding a place on classic boats. One carpenter and rigger at the Dutch Wharf Boatyard in Branford, Conn., reveals that he's come upon a need and a solution. "The only place I have used carbon on traditional boats is to wrap the ends of eight-stave birdsmouth spars with unidirectional tape, which I then paint.
I started to do this when the butt end of the mast for my boat started to split right above the step." Given the amount of compression a mast sees, he feels it makes sense to go the extra step to keep a birdsmouth spar from coming apart. "Although I think fiberglass would serve just as well," he adds.
Even everyday products are appearing with touches of carbon fiber. How about a beer bottle opener cut from a solid block of carbon fiber? Baltimore, Md. area firm, Carbon Fiber Gear, sells one for $17. For the upscale navigator on a dry boat, the company also has an iPad cover made of leather that sports a touch of carbon fiber. The Londono sleeve for a 15-inch MacBook Pro is $200. This firm, and several others, also offers blades and knives accented with carbon fiberCF; all are sexy looking, but probably best suited for less wet environments.
Edison Onboard: Now knowing what you know about carbon fiber, would you race or cruise with Mr. Edison? An inventor with 1,093 U.S. patents to his name, he'd likely do well on foredeck during harried race conditions. Or are you looking for a second mate on your pleasure vehicle? Chances are Edison's carbon fiber inventiveness–not to mention his chosen set of topics for discussion–would keep the entire crew enthralled. Chances are he will probably not realize that your sails are made of carbon fiber.
Formula One race cars and wind turbine blades are crafted with it, and its unique appearance is attracting other tradesmen. Take for example the Carbon Chair from industrial designer Aeron Tozier. Recline on a platform of carbon fiber and resin-coated brass, topped with leather chair cushions. Across the pond, United Kingdom-based Essence of Strength is creating carbon-composite furniture that has a gravity defying look. Company founders Kristian Arens and Clive Johnson offer sleek benches, lounges and chairs suitable for boat or boardroom.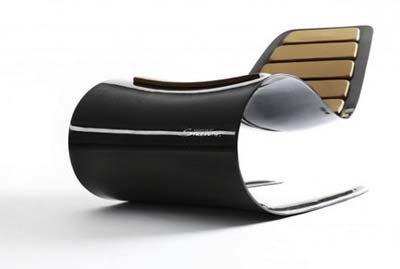 Carbon Chair from designer Aeron Tozier.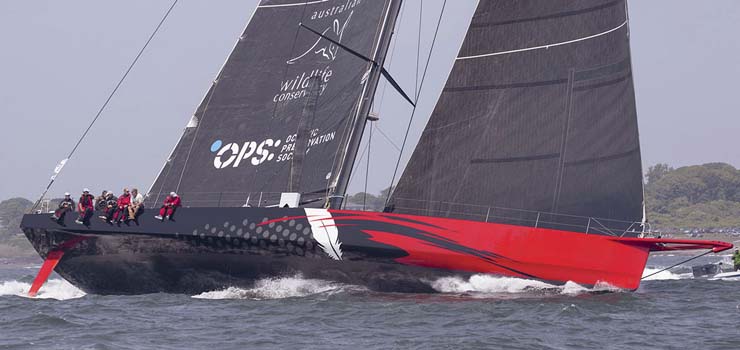 Comanche, one of the flashiest examples of carbon fiber's use.