Time for photos at the regatta for Rolex. Go on board with a GoPro and DSLR at Rolex Big Boat Series.
The skipper and crew of Santa Cruz 50 Deception are fairly accustomed to me snapping shots during races. Seen here are moments queueing up and competing in Rolex Big Boat Series San Francisco last September. For kicks, I used a GoPro at the start of the day–set to a wide field of view. Every once in awhile I need to mix it up and experiment with different cameras and angles. Photos regatta Rolex and a full crew.
A great point of view from Santa Cruz 50 in Rolex Big Boat Series
On the course early to check the tides aboard Santa Cruz 50 Deception day two of Rolex Big Boat Series. A crew count of eleven is fine for days where under 20-knots prevail. Ahead is Alcatraz Island and to the right is the San Francisco city front.
Working with a GoPro is usually hit or miss; some shots are cool, others not so cool. These smaller action cameras lack the quality lens and focus mechanisms, and their lower resolution/lower MP count/smaller sensors do not produce the clarity found in images produced from a DSLR. On the upside though, being waterproof and small in size offer trade-off benefits. All shots were done while holding the camera, but there are plans to try a remote and place the GoPro right under the racers' noses and feet. Photos regatta ROLEX, what a ride.
Of the images in the gallery here, skipper said he's still a fan of the more traditional photos captured using a DSLR, and imagery with less HDR effecting. 
A surprising POV lands the cover of PICYA
Aside from wonky wide angle field of view photography with the GoPro camera, I played with photos regatta Rolex retouch to help disguise how lousy the quality can be with these action cameras. Sue works the mainsail on Deception. Here, she's facilitating the start of a gybe by initially handling it. Having the hatch open gave me an uncommon look at things.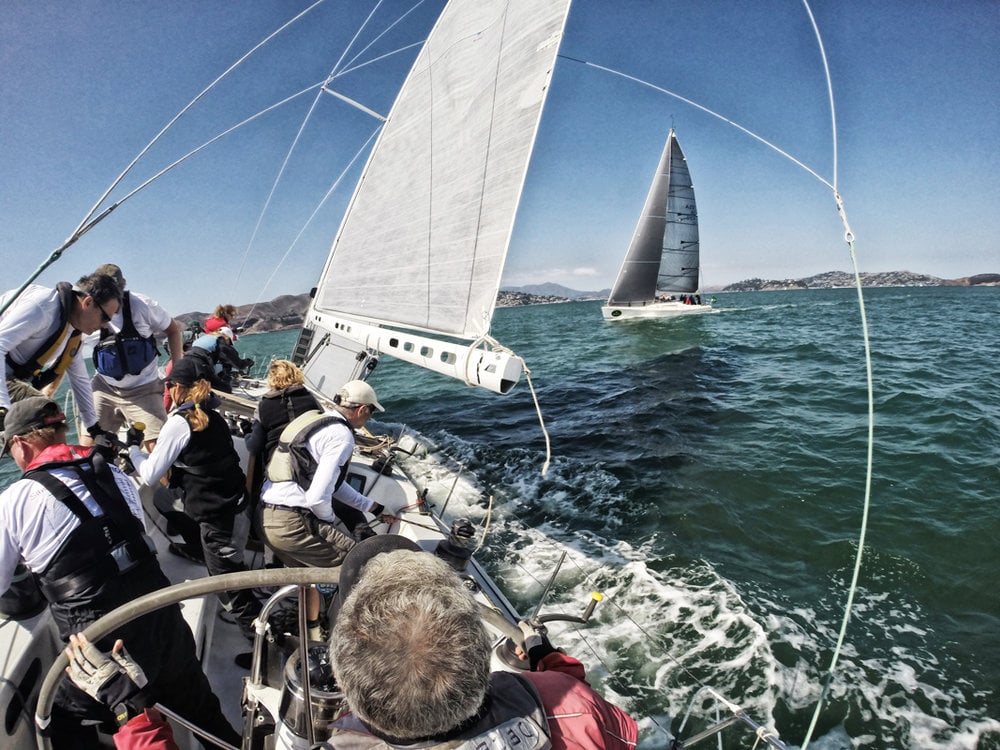 About Rolex Big Boat Series San Francisco
Widely regarded as the West Coast's premier regatta, the Rolex Big Boat Series attracts world-caliber competitors for four days of buoy racing on San Francisco Bay. This is St. Francis Yacht Club's signature event, featuring racing under ORR, HPR, and BAMA (multihull) handicaps plus multiple one-design classes. Spectators have a ringside view.
Each year, Rolex Big Boat Series presents six perpetual trophies to the winners of six distinct classes. The trophies are some of the oldest in St. Francis Yacht Club's history:
St. Francis Perpetual Trophy: This trophy was introduced at the very first Big Boat Series in 1964, when there were nine yachts competing. After a narrow victory over Jim Kilroy's Kialoa II, Jim Wilhite's Athene claimed the trophy. The trophy itself was donated by an anonymous benefactor in 1966. It was destroyed in our 1976 fire and replaced with a substitute.
City of San Francisco Trophy: In 1968, the De Young Museum of San Francisco loaned the club one of the two golden spades used in 1933 to break ground for the Golden Gate Bridge. Hence this coveted trophy. The inaugural winner was the sloop Alpha.
The Atlantic Perpetual: Established in 1978, this trophy is the ship's bell of the schooner Atlantic, trans-Atlantic record holder from 1905 to 1997. Introduced to Big Boat Series in 1978, the inaugural winner was Bill Sullivan's Peterson 43, Blue Norther.
The Keefe-Kilborn Trophy: Established in 1976 to honor the memory of the late St. Francis Yacht Club members, Harold Keefe and Ray Kilborn, the inaugural trophy went to Lucian Taylor's Peterson 40, Racy.
Richard Rheem Perpetual Trophy: Established in 1972 to honor the memory of Richard Rheem, whose celebrated yacht, Morning Star, set Transpac course records in 1949 and 1955. The inaugural winner was Bill Clute's Ericson 39, Chiquita.
Commodore's Cup: Added in 2004, the Commodore's Cup is awarded to the winner of the one-design fleet with the largest number of entries. Chris Perkins and Dave Wilson's J/105, Good Timin', won the inaugural.