Not only did Onne van der Wal man achieve his goal to sail around the world, but he also put in motion a career that, to this day, continues to loop him around the globe. With lens in hand, the master photographer rides the wave of an enviable career creating maritime art for private collections, international companies, publishers, major regattas and America's Cup athletes.
Van der Wal was born in Holland. At age two, his parents moved to South Africa. As had his father, mother and grandfather, van der Wal took to the water, first in a Dutch flat bottom sail boat then later aside his father on a Dabchick. It was in Cape Town where he experienced his first keel boat adventure at age 16. A mere seven years later he completed his first transatlantic race from Cape Town to South America (on a 73-footer)—and soon thereafter realized he had a passion for long duration offshore racing. He participated in Cowes Week and the Fastnet Race before his travels took him to Florida for competition, this time with an America crew and boat.
Onne van der Wal Nautique and The Start of a Career
In 1980, Onne van der Wal was privileged to meet Conny van Rietschoten; at a time when this global racer was overseeing design of his German Frers 76-foot Flyer. "I drove from Newport to Marblehead," enthuses van der Wal. "I learned that Conny was looking for crew with specialties, and it turns out that engineering was one role not yet filled. Among other things, I mentioned I had an engineering background and this piqued his interest." At the end of their conversation a hand was extended. Said van Rietschoten, "See you at Royal Huisman in Vollenhove in February." Van der Wal returned to South Africa for six months, soon thereafter receiving a handwritten letter from van Rietschoten with instructions for medical examination and a request for sizes—shoes to hat.
My Everest is to do the Whitbread and sail around the world.
Four Men in Suits
In early years on the water, van der Wal completed two trans-Atlantic crossings, a round-the-world journey, plus competed in numerous additional racing events. In 1981, while aboard Flyer as she swayed from her mooring in Marblehead, van der Wal accepted a hail from four men in suits rowing in his direction. Editors from Sail magazine, the men were curious to examine the vessel up close (this period of time being the boat's sea trials). All were welcomed aboard for a brief tour, and conversation ensued. To enhance description of the crew's adventures, van der Wal brought out several of his photographs. "I was the only one permitted to shoot onboard Flyer while on watch."
The next day, the photographer received a call. Having been impressed, the editor asked if van der Wal would allow Sail magazine to print some of his images. Would he also be interested in continuing to capture onboard moments from the round-the-world race, and sharing photos with the magazine?
Recall that in the 1980s, artists still relied on film cameras. A handful of reputable marine photo professionals existed in the U.S. and Europe, but there were far more enthusiast-level photographers clamoring to gain attention. Publishers in both the U.S. and Europe were marketing a variety of nautical trade magazines, and back then newspapers paid a fair rate to acquire publication rights for maritime-influence images.
While both at sea and on land, van der Wal continued to nurture his passion for capturing marine photos, be they regatta shots, onboard action or seaside moments. Reaching his mid-twenties, his sailing resume listed significant accomplishments achieved while in England, New Zealand, Holland and the East Coast U.S. He was flying around the planet to both race and crew. Tucked into his bag—a small camera and two lenses to use when moments permitted.
With more than 100K miles logged, travel and sail fatigue were starting to set in, so when a business opportunity presented itself in summer 1985 he took the call: a Dutchman was looking to start a business importing high-end marine products. Van der Wal met the challenge and launched operations in Rhode Island. Diligence paid off and operations became successful. This work permitted him to continue dabbling with photography. Then one day a simple comment from a friend gave him pause.
While motoring on 25-foot powerboat Photo 1, owner Jim Adams looked the lensman straight in the eye and said, "You could own this market if you tackled it in a professional and artistic manner." Van der Wal was two years into his high-end marine hardware operation yet he yearned for a challenge more aligned to his passion. Taking comment to heart, the budding photographer decided to throw full effort behind his camera work—launching his career in 1987 as a professional marine photographer in Newport, Rhode Island.
In the late 1980s, film was the standard. Van der Wal was creating with Canon cameras and Canon lenses. He used Kodachrome, Ektachrome and Velvia. "I shot slides. I carried a brick, or 20 rolls of film. With my lifestyle there was no time to process or print. I created photographs and, once I started submitting to publishers and vendors, would place slides into see-thru sleeves then tuck all into a FedEx envelop to ship."
For editorial, he covered international regattas for amateur, professional, Olympic and America's Cup sailors in Europe, Caribbean and North America circuits. By late 1987 he was landing commercial assignments from North Sails, Harken, Morris Yachts, Hinckley, Beneteau, Jeanneau and other firms. "I was photographing boats, clothing, shoes, commercial projects, racing and editorial work. I was trying to get my name out there and it paid off. Potential clients knew me as 'the guy with the weird name.' "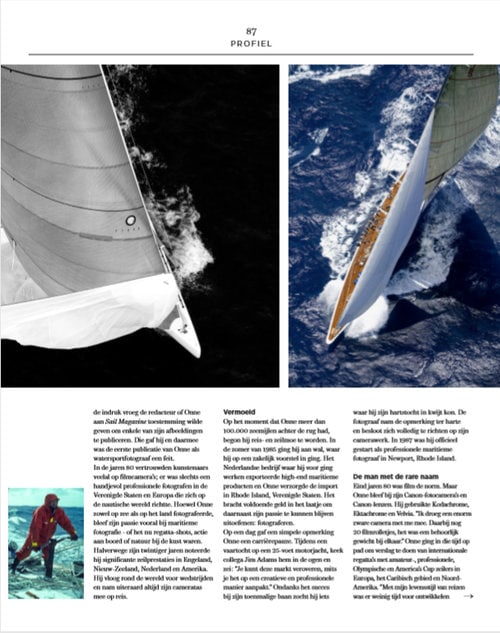 Bannister's Wharf, a Gallery and Tenley
A year into the start of the new century, he and wife Tenley opened a gallery in Newport and, "Never looked back." He smiles, "I fell in love with this area," admitting his affectation came early on following those hard days of racing. When the opportunity to set up a gallery in the heart of the city came along, he took heed. Newport has long been a prime destination for sail enthusiasts, and certain pockets of the city attract incredible streams of tourist traffic, namely Bannister's Wharf with its cobbled streets, charming passageways, rich Naval and shipping history, plus bevvy of shops.
As the story goes, an owner of a certain prime Bannister's Wharf property happened to have a landmark second floor retail space coming available and wished to crown it with an Onne van der Wal gallery. The desired tenant-photographer, knowing full well that the rent would be quite high, queried the owner, "How's the rent?" The property owner replied, "Amount X."
To this, van der Wal replied he could not afford that amount. Negotiations ensued. "It was like tennis. He served me a ball; I hit it back. We went back and forth." The game finally drew to match point when he said to the landlord, "Give me a workable number." In 2001 a deal was agreed upon and a tremendous new retail operation was opened in a large well-lit space at the head of Bannister's Wharf.
Another of Onne van der Wal's loves is wife Tenley. Essential to the business, she opted to tackle full time gallery management. "Tenley runs the gallery space, picks the images and oversees all in-house printing. She is the business manager," he asserts. Having an interior design background, her sensibility for what clients desire is right on target. Shares Tenley, "We've found that classic looks have the most appeal. It's about balance, composition, simplicity. Images that sell well also have a sense of the abstract.
By abstract, I mean things such as half-in-the-water, half-out-of-the-water looks; views that require a bit of interpretation." She supervises gallery staff and procedures, and handles print creation for retail, private collectors, hotel and corporate accounts. Outside sales and overseeing framing and presentation options are also on her management list. "We were both cautious about combining efforts under one roof, but all is working wonderfully. I am inspired by him, and I think it works both ways. I love how driven he is and I know he is very passionate about his photography."
For the most part, van der Wal's profession takes him outside on shoots, but there are days when he does spend time in the gallery. "Customers love speaking with him," says Tenley, adding that she will return from off-site meetings and find her husband thoroughly engaged in conversation with visitors.
Over the years, this pair has raised a family and each child has taken to the water in a different way. The oldest daughter resides in San Francisco and works as an art director with a creative agency. Her sail interest lies more so in social journeys. Their middle son now lives in Portland, Oregon, but taught sailing in Manhattan on the Hudson River. He also participated in 12 Metre Class events in New England. The youngest, age 19, is the sailing fanatic. He sails for Northeastern University in Boston and also coaches the local Conanicut Yacht Club 420 and Laser teams.
Onne van der Wal: Maritime Richness Translated to a Photographer's Eye
"After 32 years honing a craft, one grows familiar with what works and what does not," states Onne van der Wal. "Technically, I have learned how to capture what I like. I know what works and have honed my skills so that I can get what I envision. Experience tells me how to position the subject, whether I am shooting from a helicopter or a chase boat. A photographer develops an eye for each type production, whether the image is destined for advertising, editorial or fine art. I have come to favor a certain way with color, light, sharpness."
Factoring into success is also choice of gear. Van der Wal has been a Canon Explorer of Light for 11 years and is also a Canon Print Master. In the course of a month he may jet from Les Voiles de St. Barth to the Arctic, and then on to the South Pacific. At present, this Dutch native is shooting a project with an expedition boat that will journey to the Arctic in summer.
He is also producing an upcoming video production in the Amazon. He dedicates time to creating imagery for a new boat at the New York Yacht Club, and is creating looks for clients Raymarine, New England ropes and others. And what about his ties to the Netherlands? Annually he visits family and friends, plus travels here for work and lecture. For van der Wal, the United States offers a refreshing change and he favors the way business is done in the states. Top of list, "I love how the Newport area is inundated with such rich maritime influences and traditions."