Get Your Sailor Fortune Cookies Today
Sailor fortune cookies are a bit more salty than traditional breed. May even bring good results on race course. Heard about sailor fortune cookies? Many a sailor has gone off to sea in search of fame and fortune. Look now, lads, no further than your tea leaves and a plate o' cookies when you dine out again. Or maybe more traditionally, when you do take-out or Chinese food delivery. Your maritime messaging will bring great and good fortune that is close at hand. Traditional Chinese fortune cookies often include a tucked-inside message citing a Chinese phrase, or sometimes a lucky series of numbers. We are spoofing a few of the more popular fortune phrases, making things more salty. Will you be a sailor of good fortune? Special today for your deluxe happy family: part 1 is a plate of sailor's fortune cookies with delightful maritime messages. "Many will tack to get the heck away from you"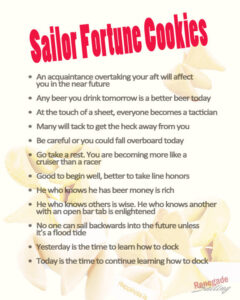 Top 10 Fortune Cookie
for Sailors Messages
An acquaintance overtaking your aft will affect you in the near future
Any beer you drink tomorrow is a better beer today
At the touch of a sheet, everyone becomes a tactician
Many will tack to get the heck away from you
Be careful or you could fall overboard today
Go take a rest. You are becoming more like a cruiser than a racer
Good to begin well, better to take line honors
He who knows he has beer money is rich
He who knows others is wise. He who knows another with an open bar tab is enlightened
No one can sail backwards into the future unless it's a flood tide
Yesterday is the time to learn how to dock
Now is the time to continue learning how to dock
"He who knows others is wise. He who knows another with an open bar tab is enlightened"
A fortune cookie is a crisp and sugary folded cookie made from flour, sugar, vanilla, and sesame seed oil. Tucked inside will be a small strip of paper with your secret message "fortune." This message may be sage advice, lottery number series, a funny saying or another tidbit. Sailors give and receive plenty of advice, so it makes sense that today we see these cookies.
The origin of fortune cookies is still debated. There are immigrant groups in California that lay claim to having made these snacks popular in the early 20th century. Other rumors state that the cookie originated with Japanese immigrants to the United States in the late 19th or early 20th century.
Next time you order take-out, seek and find your fortune cookies. Enjoy it as a dessert, or save for a snack. Chances are, if you return to RenegadeSailing.com blog again, there will be another report on sailors of fortune and sailor fortune cookies.
Love all types of cookies? Salty, sweet, chocolatey, with peanut butter? Every country has many varieties from which to chose?
How about salted caramel or even pumpkin spice? "You do know that most sailors' favorite type cookie to bring on a boat is the Pepperidge Farms Milano? You do know that aside from sailor fortune cookies, most regatta racers' favorite type to bring on a boat is the Pepperidge Farms Milano? The Milano cookie (marketed as the Monaco in Canada) is a trademarked trademarked cookie produced by Pepperidge Farm. It is part of their series of European cookies.
Each Milano consists of a thin layer of chocolate spread between two biscuit cookies. We love this treat. Be sure to see what we have written about this tasty biscuit. Did you know there have been at least 14 different types of Milanos? About the only thing we don't love about the Milano is all that packaging.