As appearing in Latitude 38: A last minute save and 'wheels to waves' adventure for new foredeck
It's roughly 9pm on Friday, September 30, day 2 of the four-day of the J/105 North Americans hosted by San Francisco Yacht Club in Belvedere (southern Marin County), California. Having completed six races so far with five more to go Saturday and Sunday, defending champ Tim Russell of Ne*Ne unexpectedly finds himself minus a foredecker. The skipper is up against 27 other crews peppered with prior Olympians, nationally ranked sailors and even former America's Cup racers. This is competition on San Francisco Bay in fall.
Russell acts fast and starts scanning the crew board. He locates then dials Cal Maritime Academy student Benjamin Louttit (class of 2025, Marine Transportation). "Can you sail tomorrow?" asks Russell. Without hesitation, Louttit accepts. "Had he dialed me just 20 minutes later I might not have answered."
Wheels to Waves to Reach Regatta
Moments after the call, this CMA Keelhauler realizes that SFYC is roughly 38 miles away from his university in Vallejo. Since he moved to California just six weeks prior, his truck is still home in Annapolis, MD. "I checked Uber — that would have cost $200 — so I looked at Google Maps and saw it was a bit more than three hours by bike." This will be a wheels to waves adventure.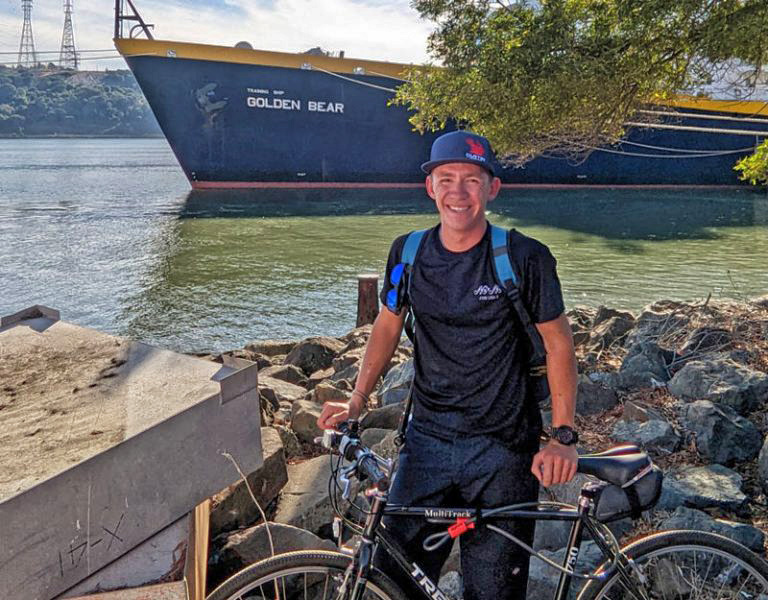 At 5am Saturday Louttit tosses his spray gear into a bag. Courtesy access to an uncle's 1980s commuter bike, he zips over the Carquinez Bridge, alongside the eight-lane freeway, cuts down Richmond Parkway past the industrial flats, then pedals over the 5.5-mile Richmond-San Rafael Bridge.
Wheels to Waves and Over the Bridge
"Just as I was exiting the bridge, Tim dials to say he received my message about not having optimal transportation to the race, and that he is happy to spring for an Uber ride. I told him my transportation challenge was solved, that I had just reached Marin." The time is 7:30 a.m. "Tim said, 'Great, you found a motor bike? Or you found a scooter? Then we will see you at the club.' I didn't tell him I was on a bike."
Louttit picks up the pace for the remaining nine miles, arriving in time to weigh in, then meet up with crew in the parking lot. It isn't until the troupe walks past where the bike is chained up that he reveals the morning's adventure.
Thanks to Louttit's dedication to crewing and the sport of sailing, Ne*Ne has an outstanding day when stacked on the line alongside 26 other J/105 competitors. "We achieved nine good sets and drops, earning a fifth and two bullets on Saturday." Russell has appointed him the boat's new foredeck. Ne*Ne finishes third overall at the J/105 North Americans. This wraps a day of wheels to waves. Louttit also competes for CMA; a recent event was the PCCSC Match Race Championships at Stanford University.