Read about
Best Learn to Sail Boats
here, and appearing in
Points East, September 2020 (page 37: "Pocket school ships")
There are hundreds of brands and makes of sailboats. And while a person can learn to sail on just about any model, many say the best way to truly get a feel for the sport and start building skills is to do so aboard a dinghy or small keelboat. The best learn to sail boats that yacht clubs, youth programs and sail instructors like often are:

Boats with tiller steering
Boats that have only one sail
Boats that do not have winches (cams or cleats and only one sail)
Rotomolded vessels (which tend to inflict less damage on objects they contact)
Sailing dinghy and skiff-types
Small sloops and keelboats
Start Small: Dinghies, Skiffs, Sloops As Best Learn to Sail Boats
Best learn to sail dinghies and skiffs are stripped down and basic, sport tiller steering and have just one sail that can be easily moved left-side to right-side. Vessels come in various shapes and versions; most are eight to 10-feet in length. Able to accommodate one or two, students may ride solo or with an instructor onboard. Best learn to sail boats are typically made of plastic, which is inexpensive, sturdy and lightweight.
That condition of being lightweight, though, introduces the importance of mastering a skill not mandatory for keelboat learners: the skill to re-right an overturned dinghy. Instructors know that flipping and taking a dunk are part of the learning process on a skiff—swim basics and uprighting a vessel are reviewed in lesson one, two or three.
Solo sailing a dinghy gives instant feedback, most noticeably when there is a shift of weight on the boat. Small skiffs also react quickly to environmental conditions, plus changes in sail position. Tiller steering gives the helmsman an immediate and precise feel for how the boat is handling. Connected directly to the rudder, the tiller provides insight on boat speed, direction and pressure exerted by wind and water.
Some top learn to sail dinghy types include the Pico (Laser brand), Laser, Opti (Optimist), International 420 Dinghy, Sunfish, Sabot, Hartley 10, RS Quba. Topper Xenon and Topper Topaz are popular larger training dinghies; these models have a headsail and can carry a spinnaker. For dinghy sailing enthusiasts, the Laser is an ideal for singlehanding, and a top choice for those seeking to eventually compete in regattas.
This make is available in three different rigs–4.7 (51 square feet sail area), Radial (62 square feet sail area) and Standard (76 square feet sail area). Laser boat models weigh 60 kilograms at most.
Developed in 1969 by Canadians Bruce Kirby and Ian Brue, the Laser is oft-cited as a solid investment with decent resale value. A step up in learn to sail boats are sloops, some of which can accommodate four passengers. Versus dinghies and skiffs, sloops are configured to run a headsail plus mainsail. Cleats, not winches, are often present for securing the sails. Sloop boats may or may not have a keel.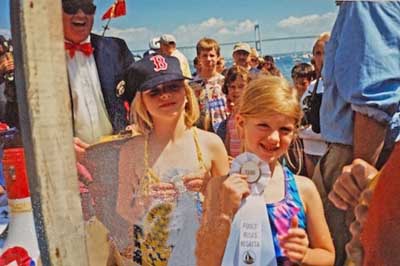 Keelboats and More
Among her various responsibilities with US Sailing, Betsy Alison is in charge of programs that assist adult learners. For some adults and/or individuals with mobility or other limitations, a keelboat is a more suitable learning platform: its ballasted keel gives stability and the boat tends to tip over less. Keelboats are often larger than dinghies and have a more open cockpit, so moving around onboard is easier.
Compared to a dinghy, the keelboat platform also permits instructors to direct additional onboard skills training–such as sail reefing, heaving to, crew overboard, teamwork, plus rotation through stations.
More stable center-board dinghies and keelboats prevalent throughout New England include the Rhodes 19, Ideal 18, Sonar, Cape Cod Mercury and smaller fleets of Cape Cod Knockabouts can still be found. Alison references Community Boating in Boston where, "Students can take lessons on a Mercury, then progress to sail Ideal 18s on the Charles River." She adds that the non-profit operation Courageous Sailing Center, operating in Boston Harbor, uses Rhodes 19s and J/80s which permit an instructor to sit onboard aside two, three or even four students.
Sailing builds character and leads to great things. Today, Erica Lush serves as a boat captain aboard 12 Metre yachts in the America's Cup Charters fleet, Newport, RI. This native of Jamestown states that her over-the-water introduction began while an infant on her parents' C&C 29. Mother and father did a good job introducing their offspring to sailing because Lush recalls the many times she and her brother paired up on a favorite small boat with hull suitable for either rowing or sailing.
"It was quite wide for its length, only one sail, plus a tiller," she says. "There was a board you would sit on if you were rowing. The board had a hole in the middle to support the mast, and hardware at the hull anchored it into place. My brother would always steer since he was older. I would trim." She says that her parents would tie a long line to the bow. "If we got stuck in irons they could pull us in to the beach. They must have instructed us to only tack so that we wouldn't wrap the rudder on the bowline."
Last year, Lush joined The Maiden Factor as permanent crew. Even while crossing the Indian Ocean—witnessing mighty extreme conditions—she felt confident. "With faith in my own capabilities and those of my teammates, I never felt nervous about our well-being." Having directed training sessions, she smiles when recounting one instance when fear did sidle up aside sailing.
"I remember crying at sailing camp when I first had to do the capsize drill in a pram. It terrified me! The boat was rigged up and tied to the dock with a long bow line. We had to hold onto the mast and lean way out until the boat flipped over. Once in the water, we had to swim around to the centerboard, pull downward to bring the boat upright, climb in without flipping it over the other direction, then bail out the water." She had so much trouble trying to tip the boat that her instructor had to climb in and assist.
"I stared into her eyes with utter terror." After several more attempts she began to relax. Starting at age seven, Lush began building a reservoir of wonderful memories of her time spent in prams—likely why she brings so much empathy when helping learn to sail students.
I remember crying at sailing camp when I first had to do the capsize drill in a pram. It terrified me!
What are the Best Learn to Sail Boats Models?
With so many best learn to sail boats types, which one is best? Shares Bob Adam, vice president of sales and marketing for Zim Sailing, "The world's most popular youth training boat continues to be the Optimist. From learn to sail, to the highest-level youth racing for sailors under the age of 16, the Opti preserves a stronghold on the market." Zim Sailing alone sells no fewer than 130 Optis per year to programs and individuals throughout the U.S.
"Once kids graduate from the Opti, the traditional favorite is the C420. Program coordinators love the durability, and kids love the performance. Like the Opti Class, the C420 Class is well-organized and holds many large regattas across the country. Young sailors often choose the C420 as a perfect platform to hone their skills for collegiate sailing. The trapeze and spinnaker are added thrills for junior sailors."
For the keelboat crowd, two best learn to sail boats are trainer boats, the J/22 and J/24 from J/Boats in Newport. Lush favors the J/22; one reason is that this model is readily available to rent through community programs such as Sail Newport.
Boston's Community Boating rents Rhodes 19s. "Rhodes 19s are super simple with a main and a jib; you can even start with just the main if you're truly a beginner. The boom height is higher than a dinghy, so you're less likely to hit your head," she says. J/24 boat owner Molly MacMillan White is a diehard fan of the J/24. It is popular and offers flexibility for use in both serious and social settings.
"The configuration can be easily adapted, and adjusting the rigging is not difficult; a genoa or a jib may be used, as can a spinnaker." Providing more cockpit space than a dinghy, the boats work well for adults, and young sailors can grow up on this vessel. White, president of the US J/24 Class Association, says the model is suitable for crew looking to fly a spinnaker or crew hankering to gunkhole. "The J/24 is relatively inexpensive. Plus, it is not very difficult to tune an older one and make it competitive; we are seeing more young people buy J/24s so that they can start racing."
White, who lives in Portland, ME, says that by age 18 she got serious about sailing when a male friend who participated in Falmouth Wednesday night racing invited her to join. "He called me, but really wanted me to bring a gal pal he was interested in!" Eventually White's own boyfriend (to whom she is now married) joined up. In years since, the crew has qualified three times to compete at the J/24 Worlds.
New England waters boater Brewster Kahle learned to sail from his family, mostly his father, and asserts this method is absolutely the best way to go. His first best learn to sail boats vessel was an Ensign, next came a Vanguard. At age 10, Brewster's parents purchased a Luders 36. While comfortable sailing with a group, he found it to be a major hurdle to personally gain confidence to take the boat out on his own.
"Being a mate is quite different from being a captain. I was not comfortable risking the boat while my father was alive. It took several years, close calls, plus a tolerant family to learn how to cruise even Cape Cod." Early years of sailing often bring new-found freedoms.
Kahle recalls one escapade: "There was not much wind, and while our family boat was moored and locked up, a friend and I decided to set out on a Sunfish. Being a bit bored we, well, captured a lobster from someone else's lobster pot then broke into my family's boat to get the alcohol stove going to cook the lobster.
A great mischievous adventure, but what we did wrong was put the lobster into the water too early. Oh what a mistake. I am still haunted by the tap, tap, tapping of on the pot as it came to a boil. To this day I have a hard time cooking lobster." Fifteen years ago, Kahle's father passed on. "He gave the boat to me and I have been able to share the experience with my family ever since."
Brewster Kahle's father, Robert, on a lazy summer afternoon cruise. Brewster now pilots the family boat, a Luders 36.
Now age 59, Kahle cherishes their adventures. "The connection of family, particularly with boats, is very strong. Sailing together, cruising the East Coast off Cuttyhunk and Nantucket—that time together, particularly on our two to four week cruises. I loved night sailing on Long Island Sound. Pure magic."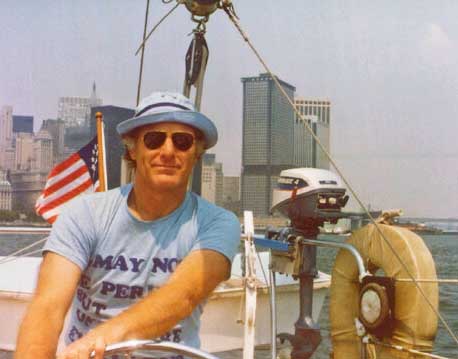 Best Learn to Sail Boats Bets for DIYers
Sometimes the best learn to sail boats are those that are readily available, or made-to-order. Matt Gillam grew up in Belfast, ME, and spent summers at the lake. Minus access to a traditional sailboat, he invented novel ways to learn. At age 10, alongside his cousins, they tried to convert an old wooden skiff into a sailing rig by spanning a towel between two oars tied off to the gunwales. Unfortunately, "We'd often have to take the rig down and row back home upwind."
Gillam eventually took sailing instructions. One of his first true sailboats was a wooden Sailfish. Today, counting 30 years' worth of moments on the water, and a first career driving tankers in the merchant marines, he and wife reside in Portland. They have kept boats for ocean sailing, but opted to teach their son how to sail at the family's lakeside property. "He loves his P15 and named it Boatie. We chose that vessel so the three of us could fit in and stay mostly dry. We can extend the season and trailer it elsewhere when our son is ready for more adventure."
An industrious breed, many sailors eventually heed the call to do some sort of boat DIY. In fact, there are competitions that celebrate this; for example Jamestown's "Fools Rules Regatta." In the morning, participants assemble beat learn to sail boats on the beach (no marine materials allowed). Boats prepped, contestants then wade out to the starting line for a straight downwind run.
Lush recalls five years in a row when she and brother cleaned up with a design plan for a lightweight picnic table, a few long 2 x 4s, tarp, picnic cloth and some sort of makeshift rudder. Despite having gone off course one year (Lush thinks it was the season a snow shovel served as rudder), we saw a podium finish most years."
No matter the venue, no matter the age of the learner, program coordinators want best learn to sail boats that are safe, fun and durable, says Zim Sailing's Adam. It's hard to beat a vintage wooden sloop or skiff, but new models continue to appear. "The RS Tera is earning its place in the youth market, with more than 300 having been sold into the US market in the past four years.
Sailing programs favor its durability (polyethylene hull) and kids love it for the fun factor. It performs well on all points of sail and the self-bailing feature is a bonus," he adds. Cousin models, the RS Feva, RS Zest and the RS Quest are trending too. "The RS Feva has been adopted by the Junior Sailing Association of Long Island Sound and US Sailing uses it in the Siebel Sailors Program. The boat has a nice performance from its asymmetrical spinnaker. The RS Zest is a modern replacement for the Sunfish, and the RS Quest can hold an instructor and up to four kids."