Some people get in the pool and splash around. Others dive in and make waves; such is the case with solo ocean racer Donald Lawson. Or rather, Captain Donald Lawson, founder of the Dark Seas Project and a 40-year old sailor out to break a few records.
Lawson plans to take on 35 different offshore sailing benchmarks in the next 10 years aboard his vessel Defiant, an ORMA 60 (60-foot trimaran) which just happens to be one of the world's fastest sailing vessels. Each event will be solo-sailed. Some of the better known races include the Transpacific, Miami to NYC, Bermuda to Plymouth plus the Newport to Bermuda, the TransAtlantic and a bigee—become the first African American man to sail around the world solo non-stop.
Of interest to San Francisco Bay racers, one of his upcoming challenges is to best the overall sail time for the California to Hawaii transpacific route. Lawson will attempt this nonstop circumnavigation seeking to finish in 70 days; the record is 74.
Fastest Boat for Solo Ocean
"To compete on this level of solo ocean racing, you need a boat that will allow competition with a high potential to win. Defiant was built in 2004 for legendary sailor Franck Cammas. On Groupama 2, this team won over 70% of their races, plus four championships." In 2011, Lawson was on track to purchase G2 but the deal fell through; the vessel sold to a U.S. crew and was renamed Mighty Merloe. The pro-am Mighty Merloe crew dominated West Coast racing, setting a slew of records.
In 2019, COVID-19 brought an end to the run and the tri was put up for sale; Lawson acquired her. Defiant is the last build ORMA 60 and is by far the fastest of her family. Head-to-head, no ORMA 60 can compete with her record and performance.
Captain and team are prepping Defiant for solo operation, "She hasn't been sailed shorthanded since 2007 when she won the Transat with Jacques Vabre. As a result, many changes are necessary. One the first things I did was reinstall the central tiller to permit steering from three locations, including near the throttle. We have also identified a number of additional improvements that will make her a true ocean-going boat—adding automatic bilge pump, radar, wind generator and more."
The captain says clean energy is a commonsense thing to also include. "For advice, I am fortunate to have input from Bruce Schwab of OceanPlanet Energy and Jay Davis's Waypoint Racing input. As I prepare Defiant, I want to get things right the first time."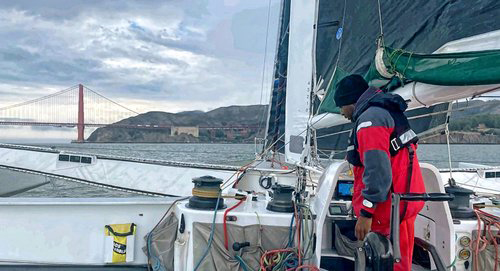 The Dark Seas Project (DSP)
A proponent of inclusion and youth sailing, for several years Lawson and his wife were paying out-of-pocket expenses for all their outreach efforts. "Early on, people would offer assistance but we couldn't take the help. This year, we created the 501(c)(3) organization Dark Seas Project so that we can expand our reach and accept donations," he notes. "We continue to offer presentations and look for ways to bring sailing to those who traditionally don't have access."
This past summer he traveled up and down the West Coast, visiting centers, clubs and organizations talking about solo ocean racing. "I want to provide everyone that I meet with a dose of inspiration. When I started sailing, there wasn't anyone in my culture to look at and imagine emulating."
"We have been fortunate that family and friends believe in what we are trying to do and support our efforts! A number of companies and individuals have donated funds and gear to the program. A special thank you to T-Mobile, Mustang Survival, Crooked Halo, ATN Corp., U.S. Sailing, Expedition Foods, the Captain (check!), RinseKit and SailM8 for supporting our program."
Lawson also leads the Diversity, Equity & Inclusion Committee at U.S. Sailing. His main duty is to help guide a team of committee members who are pushing U.S. Sailing into the future. "A top objective is to develop a DE&I template for other organizations. In this role I will speak with yacht club members tasked with developing their own DE&I missions, in addition to my own solo ocean campaign."
Around the World if You Want
Lawson was raised in Baltimore, Maryland. His father was a Baptist preacher and employee in NASA's Office of Inspector General. His mother was a computer technician and community counselor. At the age of nine, his mother enrolled him in the Police Athletic League (PAL).
One of his first field trips was aboard the Lady Maryland, a 19th-century schooner replica which hosts educational outings on Chesapeake Bay. At sail, and with the Baltimore skyline diminishing in the wake, a wide-eyed Lawson asked the skipper how far he could take the boat. "Around the world if you want."
https://captaindonaldlawson.com/home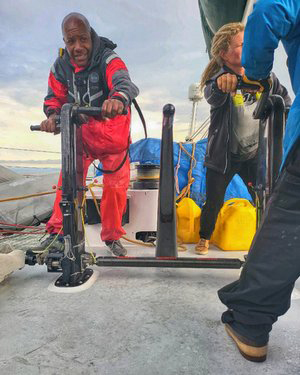 If we are able to inspire just one person, we have achieved our goals.