Do you know how many sailing shorts that you have? Long sleeve performance shirts for sailors, tank tops for sailing, a favorite crew shirt with logo: what is the tally? If you have been sailing for more than a few years, chances are probable you have amassed a stash o' Ts. And if you are a sailboat racer who crews for more than one boat, odds on you have several favorite sailing shirts.
What was the first sailing shirt you purchased?
What proportion of your sail crew wardrobe was gratis—in other words, the skipper footed the bill to keep up your appearance?
Are you a blue water cruiser? Do you wear anything besides a sailing shirt, shorts and flip flops?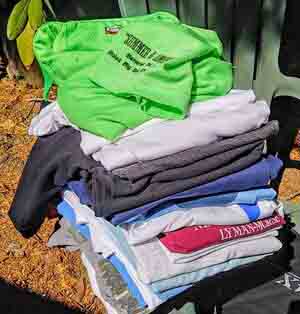 Watch the "How Many Sailing Shirts Do You Have?" Countdown Video
This: 46 second video is safe for young viewers. Thanks to skipper Pat, Katie on camera and Hair Farmer on the T-toss. There are whimsical musical tunes in this short clip.
Sustaining the Lives of Best Sailing Shirts
What makes your favorite sailing shirt so cherished? Is it the design or the memories associated with it? Or is it the fact that your mates have made so much fun of its frequent appearance that this favorite sailing shirt is now on a longevity-of-life mission.
I have a skipper who loves maritime sailing paraphernalia—sailing crew caps, racer jackets and vests, gloves, sailing beer koozies and shirts. His adoration of sailing shirts is evident; we often see social media photos where he's posing on some golf green or the other—decked out in our sailboat crew topper. He is a true devotee of this one neon lime crew T (circa 2014; hint, hint, can we get a new sailing crew shirt for 2021?).
Your own crew sailing shirts should be favorites.If you have a best t-shirt story, pop us an email. We will post again about collecting sailing gear, sail hats, beer koozies and other must-have cruiser clothing. Anyone care to share just how many sailing shirts or cruising t-shirts that you own? How old is the oldest one?