"No deposit, No Return": In this 1965 short film by KRON-TV 4, the camera pans across a section of San Francisco's affluent neighborhoods. A narrator lauds this land as being a place where its people had learned the ultimate magic for making things, and selling things, and using things.
"No Deposit, No Return": film gives look at how far San Francisco Bay Area had slid by the mid-1960s for environmental stewardship
Skilled in consumerism, the more the people wanted, the more things they made…they even made things for the singular purpose of, "Throwing them away." They delighted in putting things in packages and containers and bottles…and in taking things out of packages and containers and bottles.
We get a serious look at how far the San Francisco Bay Area had slid by the mid-60s in regards to environmental stewardship. Growing prosperity in our home was significantly contributing to dereliction in nature.
A surge in demand for consumer products in packages lead to increase in litter pollution and worse. Incinerators that burned packaging and more emitted carcinogenic soot and grime over downtown. Recall the days when SF was frequently blanketed by thick dark smog? Also happening within city limits (very frequently) were unchecked burns of abandoned cars out at Hunter's Point.
Mayor of Brisbane (San Mateo County) Jess Salmon states he'd rather have the (San Francisco) Bay filled with garbage, which yields city revenue, versus "clean dirt" from nearby San Bruno mountain.
Dead fish could be found in the bay—likely the result of oil and chemical leaks into waterways. Mass amounts of sewage and foam pumped into the Bay. And even those banal activities, such as marking celebrations by unloading trash bins of paper out skyscraper windows, contributed to the demise.
In no deposit film, it shows that San Francisco's decades of shipbuilding practices, plus questionable local Naval base operations, had already given poor stewardship a head start, this era of consumerism was pushing hard. Its folly and ignorance were shifting things into a very bad enviro-space for San Francisco Bay.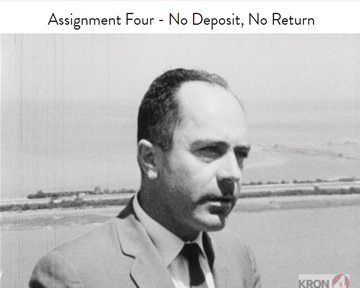 $30K a Year to Dump Garbage on the Front Yard
Many in Northern California will recall seeing muck and tires embedded around the Bay's coastlines, in particular lining the shoreline aside the straightaway north of San Francisco airport and before Hospital Curve. Locals will also recall the area's stench and its flocks of seagulls just opposite Candlestick (Candlestink) Cove. You know—Brisbane—the city whose Mayor said bring on the trash, let's build our town by filling the lagoon.
On the peninsula, San Mateo was a landfill offender also; often cited for inadequately covering up its landfill which lead to water contamination issues. Daly City dumped refuse on sea cliffs and hills; a bit of rain or wind and debris tumbled down directly into the bay or ocean. This debris washed ashore along Ocean Beach, and could even reach as far as Aquatic Park near Fisherman's Wharf.
The Big Cleaning Up of San Francisco Bay
Fortunately, over the years, concerned citizens plus various entities and agencies have worked to put San Francisco Bay's environmental scorecard back to a healthy tally. We see far less smog and soot. Wanton burning of trash and abandoned vehicles is verboten. We have solid education about the dangers of pollution, and it is illegal to dump into the bay.
And versus the 1960s, it's almost always safe for humans to swim in the SF Bay. For fish, well that's another story to tackle in a future post. While SF Bay has made incredible strides to clean up, there is a rising set of pollutants and debris entering our waterways and these are not always visible. Yes, what you cannot see could harm you.
Also features many views of garbage dumps, a tickertape parade, household garbage disposal and polluted shoreline areas. Opens with a brief introduction by KRON-TV's Vice President and GM Harold P. See, who explains: "We felt the historical and educational value of these films should not be lost to those individuals or groups whose daily schedule did not permit them to witness the original broadcast." This film was directed by Al Scollay and narrated by Art Brown.
Screen grab below from "No Deposit, No Return." KRON-TV 4 short film about San Francisco Bay pollution in 1965. Incinerators in downtown San Francisco belched pollutants into the air.
This is a KRON-TV Assignment 4 special report from 1965 about the environmental impact of waste disposal in the Bay Area, written and produced by Bob Anderson, as part of 65 titles in their Biography Series.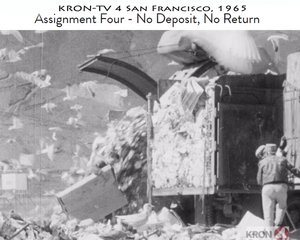 This print was remastered in 4K (4096 x 2970) using a Lasergraphics ScanStation film scanner, in September 2022.
RenegadeSailing.com has a commitment to ocean health and the environment. We are creating articles to help educate others about the state of our oceans, waterways and land.